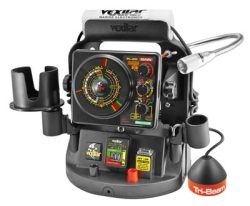 First off, it is good to know that a Vexilar is the leading brand in three color flasher sonar technology. They invented it, perfected it and make the most reliable sonar systems in the world. Did you know for example that Vexilar has less than one tenth of one percent unit fail in the first two years of ownership? Did you also know that every Vexilar pack is assembled and tested in their factory in Minneapolis prior to shipment? The life expectancy of your purchase is at least 10 years, so this is not some gimmick or fad, it is the ultimate tool to improve your winter fishing success. A Vexilars re-sale value is so high, you should expect to sell it at a nearly the same price you paid for it in five years! What a product!
Buying a Vexilar is easy if you break the parts down and take a few minutes to ask yourself a few basic questions. Vexilar has only four units to choose from so buying a Vexilar is easy if you ask yourself these three questions:
How deep do you most often winter fish?
What species are you after?
Do you find yourself fishing more than one lake over the course of a season?
With these questions in mind, lets talk about what each Vexilar system does best:
The FL-8SE, the most popular flasher sonar system in the world. This is a great all-around unit and will work in nearly all situations, but because it lacks any zoom features, it is weak when it comes to fishing targets tight to the bottom in deep water. To compensate for this, the FL-8 has six depth ranges so you can use the display to give you the largest most visible readings.
The FL-12 is the updated version of the FL-8 with a very distinctive flat panel display instead of the classic cone sun shield. The FL-12 uses the next generation of interference rejection system to help f
ight unit cross-talk with more than one Vexilar is fishing near you. Either the FL-8 or FL-12 are ideal of use in open water as well.
The FL-18 has the classic Vexilar sun shield look, its one of the more advanced sonar systems you will ever use. With only three buttons to master,it is very easy to operate. For example, it has the classic on/off range knob, a mode control knob that offers both standard power and low power setting which is ideal when fishing in waters less than 10 feet. This unit was the first to have the split-screen display. In the AZ mode, it allows you to zoom in on the bottom six feet of the water column. Basically it is done to give you great target identification in deeper waters. For example, you get about the same resolution in the AZ mode of the bottom six feet in 60 feet of water as if you were only fishing in six feet of water! It has another feature called Bottom Lock or BL that does the same thing, but is designed for only summer because it tracks the bottom six feet as you move along. This is a very popular unit for sure with walleye fishermen looking at targets tight to the bottom in deeper waters. The Mode switch on your FL-18 has another great option, a built-in LP or low power mode for when you are fishing in shallow water. The Low Power mode allows you to turn down the power of your unit to give you a very clear signal in weeds or when you are fishing in waters less than 10 feet.
The FL-20 performs like the FL-18 it that it has zoom technology, but the FL-20 has two zoom zones, a 6 foot and a 12 foot. It has a unique night mode and a built-in shallow water power setting for anglers fishing in water less than 10 feet. The FL-20 also has the new flat-face display and has the next generation interference rejection system in it for use around other sonar units. In the ice fishing world, few units offer more features than the FL-20 for helping you catch more fish.
The FL-22HD is the latest in flasher depth sound technology. This unit builds upon the feature set of the FL-20, but is tailored more towards the shallow water angler. With six depth ranges starting at 10′ and stepping down to a maximum of 60′, each range has a unique pulse width optimized for the depth you are fishing. This give an unparalleled sharpness in display and target resolution.
Transducers:
Each of the Vexilar Ice-Ducer transducers are interchangeable and will permit you to better match the performance to your fishing situations. Vexilar is the only winter sonar company that uses high quality Barium Titinate in their transducer crystals. This is a very specialized material designed to give you years of trouble-free performance in a cold environment.
Vexilar offers four Ice-Ducer transducer options and basically their performance is linked to depth. The wide angle 19 degree works best down to 30 feet, any deeper and the signals you get are not very crisp and easy to see. The 12 degree Ice-Ducer works well down to 45 feet and the 9 degree works down to 200 feet if needed. Vexilar also offers a Tri-Beam of an 8 degree, 12 degree and a 20 degree in one single housing.
While the Tri-Beam Ice-Ducer may be expensive, it does give anglers the flexibility of having a narrow, mid and wide degree Ice-Ducer in one housing and you can switch easily from one to the other.
In summary, if you are fishing for suspended fish like crappie or sunfish in waters less than 30 feet of water, the FL8 or FL-12 will do an outstanding job.
If you are fishing perch or walleye in deep water and need to see a tiny lure tight to the bottom, then the FL-18 FL-20 or FL-22HDwould be a better choice. There is no doubt that the FL-20 will give you the most amount of flexibility to fish in any ice fishing situation you may come up against, it does it all.
Vexilar Ice Packs: Vexilar offers three Packs for their units: the Genz Pack, the Pro Pack II and the Ultra Pack.
The Genz Pack is available from the factory with an FL-8, FL-12, FL-18 or FL-20 unit. Thisis a tough carrying case designed by Mr. Ice Fishing Dave Genz. This case is designed to fit ON TOP of a five gallon bucket rather than in it, so it is easy to access while fishing. It comes standard with a 7 amp hour battery and a fully automatic one amp charger that not only chargers the battery quickly, but you can leave it on all the time and it will not hurt your battery. The Genz Packs are a great value for sure.
The Pro Pack II is a very functional case that comes with a digital battery status indicator to keep an eye on your battery status and a 9 amp hour 12 volt battery. It too has the one amp charger and this round case fits into a five gallon bucket. It has other things like a cable management system and even a Vexilar tackle box.





The Ultra Pack Case is the last of the three and is consider the ultimate is the Ultra Pack. The Ultra Pack is available from the factory with a FL-12, FL-18, FL-20 and FL-22HDunit. It has a unique enclosed battery compartment with a master on/off control switch design. It has remote charging ports, a great cable storage system and also comes with a tackle box. The over-all case offers a taller, easier to reach feature plus it fit into a five gallon bucket.
So there you have it, this has been a once over lightly breakdown on the various Vexilar options to choose from this season. You can always go toour products pagesto learn even more about everything I have described and fine-tune your purchase even more. One thing you can be sure of when buying a Vexilar is that each unit is assembled and factory tested before it leaves the factory to be sure it will be catching fish for you right out of the box.